Map of Nepal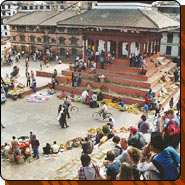 Durbar Square, Kathmandu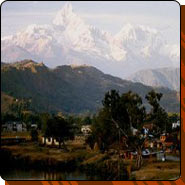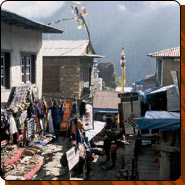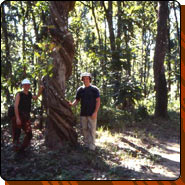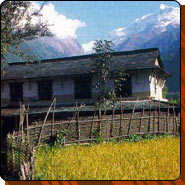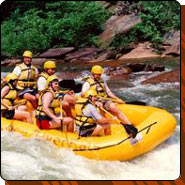 Nature tour of Nepal



The price includes:
-Flights from Helsinki
-all mentioned transportations on the spot
-Accommodation in shared doublerooms The hotel in Kathmandu is the Everest, in Pokhara the New Crystal, in Chitwan Hotel Jungle Lodge (full board). A guide, porters and cooks will accompany you during the trek and river-rafting. The tours will be done with an English-speaking professional guide.


hotels
Hotel Everest



pics
New Crystal



pics
Jungle Lodge



pics



day 1.
Departure from Helsinki.(on Tuesdays)



day 2.
Arrival in Delhi in the morning. Flight from Delhi to Kathmandu. Transportation to the hotel.



day 3.
An all-day sightseeing tour. Visit to the valley's third town, Bhadgaon, which is full of beautiful sights and rich in architecture. A visit to the Hindu Pashupatinath temple and to the sacred Buddhist stupa of Budhanath. A visit to Durbar Square where Kumar's residence is. At Durbar Square we will see the sweet child goddess and hear about the tradition which still lives on. In the evening you will get directions for the coming nature trip.



day 4.
Flight to Pokhara, transportation to Kalikatan, where the three-day trek starts. The trekking route was also explored by Prince Charles in 1980.



day 5.
Trekking



day 6.
The trek ends in Pokhara.



day 7.
After three hours of road trip the exciting rafting on the river begins. The dinner is enjoyed at the campfire and the night will be spent in a tent.



day 8.
Rafting continues. After the amazing sights and exciting experience we will stop for a meal. A road trip from Kunghat to Chitwan's royal wildlife sanctuary. The jungle safari begins in the afternoon, on the back of an elephant.



day 9.
The day will be spent at the sanctuary. Walking, canoe trips, bird-watching and getting to know the village. You may catch a glimpse of a crocodile, rhinoceros, bear, leopard, tiger...



day 10.
Those who like to get up early can observe the animals' activities during sunrise. Transportation to Kathmandu after the breakfast, accommodation in the same hotel as before.



day 11.
Free time



day 12.
Transportation to the airport and flight back to home.



day 13.
Arrival in Helsinki.