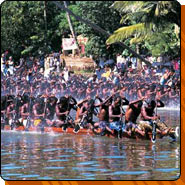 A rowing competition at Alleppey.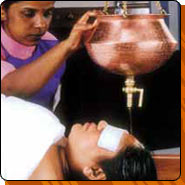 Ayurveda massage has long traditions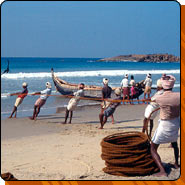 Kovalam has the most magnificent beaches of Southern India.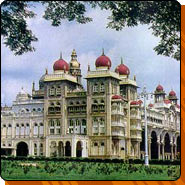 The palace of Mysore,which is known by it's big nightlightnings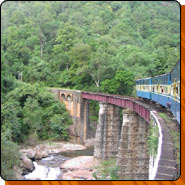 You can see amazing views traveling by train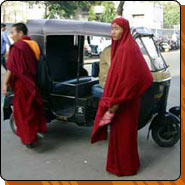 Local monks in Mysore


Village of Puttaparti


Daily departures!



Explorer's trip to South India
day 1, Helsinki - Mumbai (former Bombay)
Lufthansa flight to Frankfurt, continuing with an Air India jet to Mumbai.



day 2, Bangalore
Arrival in Bangalore with a local flight, transport to the hotel. Bangalore is a beautiful city with plenty of vegetation and tree-lined boulevards. The city is an Indian dream; a garden city with a pleasant climate where everyone would like to live. A sightseeing tour includes a visit to the 18th century summer palace of Tipu Sultan.



day 3, Puttaparti
Bus travel to Puttaparti, where the famous ashram of Sai Baba is located. Sai Baba is able to, among other things, materialize objects from thin air. He has millions of followers in India and the rest of the world. A modest hamlet has grown into a harmonious city, which attracts people from all over the world. Accommodation at the ashram.



day 4, Bangalore
Free time for shopping etc.



day 5, Hassan
After breakfast a bus journey (160 kms) to Hassan. Visit at Belur's Channasestva Temple, which took an an incredible 103 years to build. In Halebid we adore masterpieces of sculpture, which are remains from a high culture that prevailed a thousand years ago. Accommodation at the Hassan Ashok Hotel.



day 6, Mysore
Bus to Mysore. On the way a visit to Sreerangapattinau, which was destroyed in the battles between the British and the legendary Tiger of Mysore, Tipu Sultan.



day 7, Mysore
The city was for a long time the capital of the Wodeyars. The main object is the Lalitha Mahal Palace, which is now used as a hotel - for our group too.



day 8
Bus to Ooty, a famous center of mountain holidays. On the way we stop at an elephant wildlife park.



day 9, Ootya - Kochi (Cochin)
In the afternoon begins a unique journey with a mountain train through valleys and tunnels towards Mettupalayam, from which the journey continues into Kochi.



day 10, Kochi
Kochi is a unique meeting place of cultures, where harmony rules between the Indian, Jewish, Arab, Chinese, Portuguese and British ways of life. On a city sight-seeing tour you will see that this really is possible.



day 11, Allappey
Bus to Alleppey, the Venice of India, which has been an important trading place since the beginning of time. From Alleppey we leave for an unforgettable boat trip through the lagoons to Kottayam, from which there is a transport to Kovalam, the best beaches of Southern India.



days 12 and 13
Rest. We recommend that you try the ayurveda natural oil massage.



day 14, Mumbai
Flight to Mumbai, further flight to Frankfurt.



day 14, Helsinki
Arrival in Helsinki.