travel route on map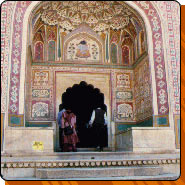 Palace port in Amber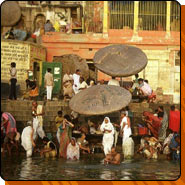 Holy spa in Ganges river in Varanasi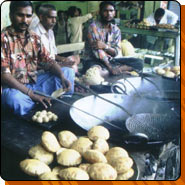 Street delicates in Puri


Classical India tour
Delhi - Jaipur - Agra - Khajuraho - Varanasi - Puri - Calcutta
Departures daily!
The Golden Triangle plus a visit to Khajuraho, famous for its erotic temples. New destinations: the virgin shores at Puri and Kolkata, which suffers from a needless negative reputation.
Especially for you who want to see and experience a lot in short time!




day 1.
A flight to Amsterdam, a connection flight to Delhi. Arrival at night, transportation to the hotel.



day 2.
New Delhi sightseeing tour. See the administrative buildings, built by the British after they transferred the capital from Kolkata to Delhi in 1911. A visit to emperor Humayum's grave memorial which is said to have inspired the Moghul Emperor to build Taj Mahal. Also a visit to colorful Lakshmi Narayan temple.



day 3.
A sightseeing tour in the morning to to Old Delhi. The highpoint is taking a stroll on a lively and exotic residential and store block. A visit in Mahatma Gandhi's grave memorial in Raj Ghat. 250 kms' car trip to Jaipur through India's countryside. Accommodation in a hotel.



day 4.
Jaipur, the capital of Rajasthan. The city was called the pink city because the Maharajah ordered all the buildings to be to be painted pink. In the morning a visit to Amber's fort, which is located in the former capital. You will ride up to this fort on elephant's back. In the afternoon a visit to the Maharajah's current palace, which includes an art gallery and museums of weapons and textiles.



day 5.
Departure to Agra in the morning (235 kms). Before arriving to Agra we'll stop by in fort town Fatehpuri Sikri, built by emperor Akbar. The city was abandoned 16 years later because of water shortages. Accommodation at a hotel (no shortage of water).



day 6.
A visit to the most beautiful building in the world, the Taj Mahal, and to Agra's fort. In the Yasmin room you will hear about the world ruler's sad destiny.



day 7.-8.
By train to Jhans where from by car to Khajuraho and accommodation in a hotel. The city was religious service center of the Candela dynasty. 22 of the original 88 temples remain., they are located in three temple groups. One of the groups is famous for it's erotic sculptures. There is plenty of time to rest at the hotel pool.



day 9.-10.
A flight to Varanasi and accommodation in a hotel. Varanasi (former Benares) is one of the oldest cities in the world and a remarkable center of learning and knowledge. The city is also a Hindu pilgrimage site, and cleansing in the Ganges at Varanasi is every Hindu's dream. The programme also includes a sunrise trip at the Ganges river. The city sightseeing tour also includes a visit at BHU University and Mother India's temple. And then towards Puri by train.



day 11.-13.
Accommodation in a beach hotel. There are few tourists, as Puri is not a popular beach resort. Here you can experience real Indian hospitality and kindness. Sunbathing and swimming. A night train to Calcutta.



day 14.
Accommodation in a hotel. India's first underground railway, several museums, restaurants and shopping centres are located in the capital of South Bengal's state. The city has much to offer besides the slum district Westerners have heard so much about. Sightseeing tour takes you to Mother Theresa's children's home and a Jain Temple.



day 15.
Transportation to airport, a night flight back to home. Arrival to Helsinki.